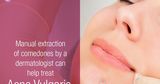 Acne is the common distressing skin condition that affects the areas like face, shoulder, neck, upper arms, chest, and back. This is an effectively treatable condition, and timely intervention can help in the clearance of acne and prevents permanent scarring. Acne symptoms usually range from uninflamed blackheads to pus-filled pimples or large, red tender bumps on the skin. Though effective treatments are available, acne is persistent. This skin condition generally involves sebaceous glands and often affects both males and females. Before providing any treatment, it is also essential to identify the cause of acne.
Comments (0)
You need to be logged in to write comments!
This story has no comments.