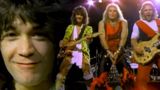 Гледай С Почит към Любимецът вируозът на китарата Еди Ван Хален - Eddie Van Halen - Beat It solo Live with Michael Jackson, видео качено от mentos, във Videoclip.bg - видео споделяне за всички българи!
Comments (0)
You need to be logged in to write comments!
This story has no comments.