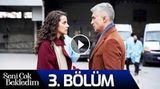 Дълго те чаках епизод 3 бг.суб. Турски Сериал Онлайн Много дълго те чаках Сезон 1 еп.3 / Seni Cok Bekledim 3 bg.sub Актьорски състав: : Йозджан Дениз, Ирем Хелваджъоулу, Мустафа Угурлу, Йълдъз Кюлтюр, Джанер Шахин, Илхан Шен, Лила Гюрмен, Али Ипин, Дурул Базан, Тюркю Туран, Шехсувар Акташ, Селен Домач, Ахмет Мекин и др.
Comments (0)
You need to be logged in to write comments!
This story has no comments.