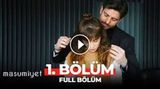 Невинност епизод 1 бг.субтитри Онлайн Турски Сериал Невинност Сезон 1 епизод 1 epizod 1.Sezon Masumiyet bg.sub. online Актьорски състав: Хюля Авшар, Мехмет Аслантуш, Дениз Чакър, Толга Гулеч, Илайда Алишан, Серкай Тютюнджу, Дениз Исин, Асена Тугал, Ертугрул Постолу и др.
Comments (0)
You need to be logged in to write comments!
This story has no comments.