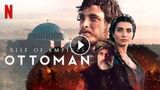 Възходът на Османската Империя епизод 3 бг.субтитри Онлайн Турски сериали Rise of Empires ep.3 bg.sub online Исторически, Документален сериал - 2020, Турция актьорски състав: Джем Йигит, Дамла Сьонмез, Туба Бююкюстюн, Биркан Сокулу, Селим Байрактар и др.
Comments (0)
You need to be logged in to write comments!
This story has no comments.