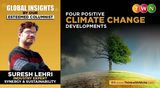 A 2018 study estimated that the value of nature and its goods and services is $125 billion. The basis of the global economy is the raw materials it provides. We would all be happier if we worked with it instead of against it. There are still some positive signs in this maze of obstacles. The good news is that there are some signs that we can.
Comments (0)
You need to be logged in to write comments!
This story has no comments.