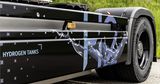 The hydrogen-powered fuel-cell drive will become indispensable for CO2-neutral long-haul road transport in the future. The Mercedes-Benz GenH2 Truck has been newly designed from the ground up. It features completely new components, which the developers are particularly focusing on during the tests. These components include the fuel-cell system, the all-electric powertrain, and all of the associated systems such as the special cooling unit. The experts at Daimler Trucks are forging ahead with the development of tank technologies for liquid hydrogen.
Comments (0)
You need to be logged in to write comments!
This story has no comments.