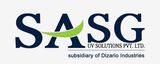 Led UV system for curing is one process that involves photochemical reactions. During this process, an adhesive or coating is converted into a solid. There is no need for heat in driving off the solvents. The photochemical reactions result in drying of the same. Considering the present scenario, an LED UV system for curing is the method that can help to make things better. We will here look into the advantages of LED UV system for curing in relevant industries.
Comments (0)
You need to be logged in to write comments!
This story has no comments.