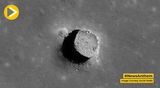 Researchers using computer modeling and data analysis from NASA's Lunar Reconnaissance Orbiter (LRO) satellite have found shadowed areas within lunar pits that are consistently around a pleasant 17 Celsius, a temperature that is ideal for humans.
Comments (0)
You need to be logged in to write comments!
This story has no comments.