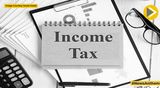 The Income Tax Department on Friday declared that it has recovered unaccounted deposits of more than Rs 55 crore in the seizure and search procedures that it carried out on premises of the former fund managing director, chief trader and manager of equity from Axis Mutual Fund Viresh Joshi and the sharebrokers associated with him middlemen and entry operators.
Comments (0)
You need to be logged in to write comments!
This story has no comments.