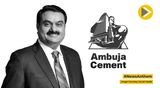 Investors have reacted cautiously to the Adani Group's Rs 31,000 crore open offer for a 26% stake in ACC and Ambuja Cement. According to exchange data, 4,061,184 shares were tendered out of the 48.95 million ACC shares the group offered to buy as of Friday, the last day of the open offer. This represents 8.3% of the shares that were supposed to be tendered. The group paid Rs 934 crore for the shares at an offer price of Rs 2,300. Ambuja Cement received 727,076 shares, accounting for 0.14% of the 516.3 million shares offered with a payout of approximately Rs 27.9 crore.
Comments (0)
You need to be logged in to write comments!
This story has no comments.