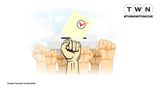 Every year on September 15, the International Day of Democracy is observed. Every year, the UN announces the theme of the day, and the day is celebrated in accordance with the theme. A country's democracy is determined by three factors: human rights, freedom, and free and fair elections. The Theme of International Day of Democracy 2021 was "strengthening democratic resilience in the face of future crises".The theme of 2022 has not been announced yet.
Comments (0)
You need to be logged in to write comments!
This story has no comments.