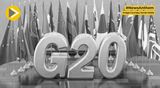 India is set to host the summit of the leaders of the world's 20 (G20) largest economies next year. An announcement regarding this was made by the Union Ministry of External Affairs on Tuesday. According to the ministry, India will host the G20 Leaders' Summit in New Delhi on 9 and 10 September 2023 under its chairmanship.
Comments (0)
You need to be logged in to write comments!
This story has no comments.