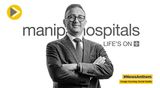 One big private hospital group has got a new investor, while a healthcare chain in the city is set to get a new owner.Temasek, a Singapore-based investment firm, has invested around Rs 600 crore in Medica Superspecialty Hospital.
Comments (0)
You need to be logged in to write comments!
This story has no comments.