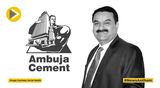 The purchase by Gautam Adani of cement giants Ambuja, and ACC from Holcim by Gautam Adani has triggered a rally. This has boosted both stocks and added over Rs40,000 crore to investor wealth within the last month. These cement companies clearly feel the Adani effect.
Comments (0)
You need to be logged in to write comments!
This story has no comments.