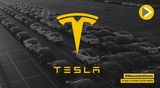 EV giant Tesla has issued a recall for about 11 lakh vehicles in the US over automatic window reversal system which according to the company might not react correctly after detecting an obstruction thus increasing the risk of an injury.
Comments (0)
You need to be logged in to write comments!
This story has no comments.