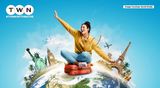 Few things can match the joy of traveling around the globe. It is important to recognize, appreciate and celebrate it. Word Tourism Day is all about that. World Tourism Day, which is observed every September 27, is an important event that raises awareness about the importance of tourism all over the globe.
Comments (0)
You need to be logged in to write comments!
This story has no comments.