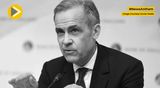 Mark Carney, a former governor of the Bank of England, has accused that the government is "undercutting" the main economic institutions in the United Kingdom UK. According to Mr. Carney, the Bank and the government's tax-cutting initiatives are "working at some cross-purposes"
Comments (0)
You need to be logged in to write comments!
This story has no comments.