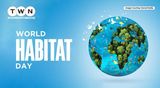 World Habitat Day is marked on the first Monday of every October every year. The day is officially recognised by the United Nations. The day is observed to acknowledge the state of our towns and cities, and the basic right of all to adequate shelter.
Comments (0)
You need to be logged in to write comments!
This story has no comments.