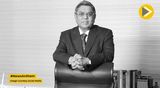 Tulsi Tanti, who specialized in both engineering and commerce, was born an entrepreneur. He and his three brothers launched a textile company instead of continuing their father's construction business. Tanti ordered two windmills for their textile industry in response to rising electricity costs. That inspired him to start investing in wind energy. He and his brothers established Suzlon in 1995 after selling some family property to raise $600,000 for startup funds.
Comments (0)
You need to be logged in to write comments!
This story has no comments.