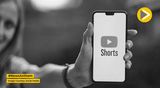 Video streaming platform YouTube is going to make a new change soon, in which all users will have their account handle. YouTube is preparing to roll out this feature soon. In this feature, like platforms like Instagram, Twitter and TikTok, the user will have his own account handle, with the help of which users will be able to mention any other user. This feature of the Google-owned company is currently being tested. Can be released for users soon.
Comments (0)
You need to be logged in to write comments!
This story has no comments.