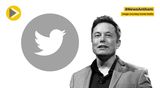 Ever since the deal started between Twitter and Elon Musk, some new news about this social media company has come to the fore. At the same time, the information that is coming out about this is shocking. According to the news, Elon Musk, the world's richest man, has told his potential investors about this deal that he has prepared a plan to lay off 75 percent of Twitter's 7500 employees.
Comments (0)
You need to be logged in to write comments!
This story has no comments.