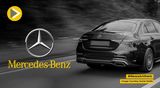 The renowned German luxury automaker Mercedes-Benz is on track to become the newest foreign automaker to shut down operations in Russia amid the war with Ukraine. Mercedes said on Wednesday that it would sell its assets to a local investor and depart Russia.
Comments (0)
You need to be logged in to write comments!
This story has no comments.