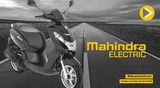 India's market for electric cars is expanding steadily. Both established and emerging businesses are active in this market. Customers in this situation also stand to gain significantly because they have more options available to them than they would have with a single company's product. In a similar spirit, another business is getting ready to release a brand-new electric scooter on the Indian market. In this news, we are presenting information regarding the new electric scooter.
Comments (0)
You need to be logged in to write comments!
This story has no comments.