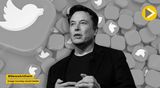 Since paying US$44 billion for Twitter, Elon Musk has acquired full ownership of the company. At the same time, there is news that Elon Musk has also ordered the layoff of Twitter employees. He has requested that the management create a list of the staff members who will be let go from the organization throughout this procedure. Along with this, he has also called for revisions to Twitter's rules regarding microblogging.
Comments (0)
You need to be logged in to write comments!
This story has no comments.