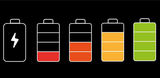 Disposable vape pens are designed to be used until the battery runs out and then disposed of. However, if you have a rechargeable disposable vape, you can recharge it using a USB cable. To recharge a disposable vape, first, locate the charging port on the bottom or side of the device. Insert one end of the USB cable into the charging port and the other end into a USB wall adapter or a computer. Allow the device to charge until the light on the device turns green or the device is fully charged. It is important to note that not all disposable vapes are rechargeable, so be sure to check the manufacturer's instructions before attempting to recharge your device.
Comments (0)
You need to be logged in to write comments!
This story has no comments.