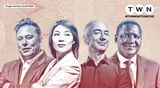 Many major industry segments in India are doing extremely well, producing billionaires. Several industry segments are outperforming the others in terms of positively impacting the Indian economy by catering to the needs of both the domestic market and exports. The top twelve industry segments in the country that have produced the most billionaires are as follows.
Comments (0)
You need to be logged in to write comments!
This story has no comments.