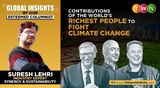 The world has evolved and is continuing to evolve. We are surrounded by technology and have access to items that make our lives easier. However, as humans evolved, we began to disregard nature. This has resulted in major climate change. This rare planet must now be saved. There is no planet B.
Comments (0)
You need to be logged in to write comments!
This story has no comments.