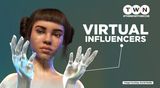 CGI influencers, or virtual influencers, are computer-generated 'people' that have the characteristics, features, and personalities of real people. They are created by clever people, whether they be brands or individuals with an eye for technology. Their faces remain anonymous. These creators are responsible to grow their Instagram accounts and mold these virtual figures into the influential personalities and influencers they have become.
Comments (0)
You need to be logged in to write comments!
This story has no comments.