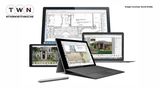 There are choices for the novice enthusiast, the tech-savvy corporation, and everything in between in the wide and expansive area of Landscape Design Software. Do you plan to start your next major DIY project soon? a freelancer who runs a small business? You might own a sizable gardening business or create unique swimming pools. Whatever the situation, the best landscape design software addresses your particular requirements, integrates with your existing tech stack, and is within your means.
Comments (0)
You need to be logged in to write comments!
This story has no comments.