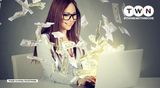 There are more ways to make extra money than ever before, both online and offline. Thats great, but knowing where to invest your time can be tricky. Use this list and discover new ideas to make money online and from home. Earn cash from walking, recycling, reviewing music and even searching the web.
Comments (0)
You need to be logged in to write comments!
This story has no comments.