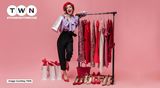 The fashion industry encompass many different smaller and more niche industries. Often people think of it as just retail/online stores, design houses and brands, and fashion magazines. However, there are other craftspeople and industries in the manufacturing of clothes.
Comments (0)
You need to be logged in to write comments!
This story has no comments.