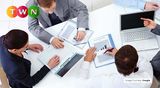 In order to be creative, a person must have imagination, original thought, and knowledge. People who work in creative fields can communicate their ideas, opinions, and knowledge to further a certain purpose. Finding out more about the different careers in the creative industry will help you determine if it's something you're interested in. People that are creative have a variety of abilities that enable them to approach a challenge from a fresh angle.
Comments (0)
You need to be logged in to write comments!
This story has no comments.