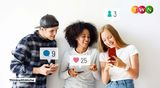 Social media is a powerful tool for marketing your business. But it's also a great way to connect with your customers and build relationships. But if you don't have a strong social media presence, you'll lose out on potential customers and followers. Here are some tips to help you grow your online following and keep your community active.
Comments (0)
You need to be logged in to write comments!
This story has no comments.