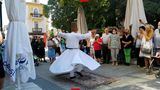 Гледай За Деня Ашуре в Пловдив 2022 г. - Единственият дервиш в България: Трябва да убием в себе си омразата и агресията, видео качено от smiles, във Videoclip.bg - видео споделяне за всички българи!
Comments (0)
You need to be logged in to write comments!
This story has no comments.