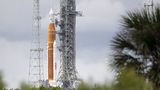 Гледай Artemis I - (NASA) 2022 We Are Ready!!! Отново към Луната: Започва мисията "Артемида 1" - Artemis I Launch to the Moon (NASA), видео качено от smiles, във Videoclip.bg - видео споделяне за всички българи!
Comments (0)
You need to be logged in to write comments!
This story has no comments.