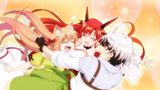 Гледай Yuusha Party wo Tsuihou sareta Beast Tamer, Saikyoushu no Nekomimi Shoujo to Deau [ Бг Субс ] episode 5 Високо Качество, видео качено от toruto3, във Videoclip.bg - видео споделяне за всички българи!
Comments (0)
You need to be logged in to write comments!
This story has no comments.