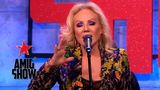 Гледай Lepa Brena - Pazi kome zavidis / Bolis i ne prolazis - LIVE - Ami G Show - (Tv Pink, 13.12.2022), видео качено от vasilka_vasileva, във Videoclip.bg - видео споделяне за всички българи!
Comments (0)
You need to be logged in to write comments!
This story has no comments.