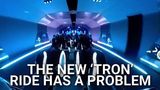 Гледай Early Reactions To Disney World's New 'Tron' Coaster Have Dropped, And A Lot Of Them Are Pointing Out The Same Problem, видео качено от reverencia, във Videoclip.bg - видео споделяне за всички българи!
Comments (0)
You need to be logged in to write comments!
This story has no comments.